Prof. Laura Lee Downs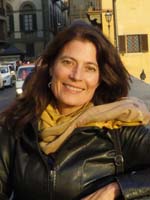 Laura Downs is Professor of History at the EUI, where she holds the Chair in Gender History, and is Directeur d'études at the Écoles des Hautes Études en Sciences Sociales, where she holds a chair in the comparative history of social management (La gestion sociale: France-Angleterre, XXe siècle). She has published extensively on issues of gender and labor in twentieth century Europe, on working class childhood, and on the comparative history of social protection in Europe. She has won fellowships from the Guggenheim, Fulbright, NEH, Mellon and Giles Whiting foundations, and her book Manufacturing Inequality: Gender division in the French and British metalworking industries, 1914-1939 (1995), won the Pinckney Prize for the best book in French History. She has also published widely on gender analysis and historical method, most notably in her Writing Gender History (2010). Professor Downs's current research, on the construction of para-political spaces of social protection in France, Italy and Great Britain, 1870-2010 explores the complex gender politics that have cross-cut this space of public activism since the end of the nineteenth century.
Gender-related publications:
« 'And So We Transform a People': Women's Social Action and the Reconfiguration of Politics on the French Right, 1934-1947 », Past and Present 225, (November 2014), 2-39.
« War Work », in Jay Winter and John Horne, eds., The Cambridge History of the First World War, Volume III (Cambridge, Cambridge University Press, 2014), 72-95.
« La République garantit l'égalité des citoyen(ne)s », in Marion Fontaine, Frédéric Monier et Christophe Prochasson, eds. Une contre-histoire de la IIIe République (Paris, La Découverte, 2013), 138-49.
« "Nous plantions les trois couleurs': Action sociale féminine et recomposition des politiques de la droite française. Le mouvement Croix-de-feu et le Parti social français, 1934-1947 », Revue d'histoire moderne et contemporaine 58-3, juillet-septembre 2011, 118-63.
«From Women's History to Gender History », in Stefan Berger, Heiko Feldner and Kevin Passmore, eds., Writing History : Theory and Practice (London, Bloomsbury, 2010), 261-82.
"'Each and every one of you must become a chef'": Towards a social politics of working-class childhood on the extreme right in 1930s France", Journal of Modern History, March 2009, 1-44.
"French History Without Gender?," in Robert Gildea and Anne Simonin, eds., Writing Contemporary History (London, Hodder Arnold Press, 2008), 76-94
« Si 'femme' n'est qu'une catégorie sans contenu, pourquoi ai-je peur de rentrer seule le soir ? Les politiques de l'identité saisies par le sujet post-moderne », in Pascale Bonnemère et Irène Théry, eds., Ce que le genre fait aux personnes, numéro spécial de l'Enquête (Paris, Editions de l'EHESS, 2008), 3-33.
« Salaire et valeur du travail : l'entrée des femmes dans les industries mécaniques sous le sceau de l'inégalité en France et en Grande Bretagne (1914-1920) », Travail, genre et sociétés n. 15, avril 2006, 31-49.
"Gender", dans Patrick Savidan, et al. (sous la dir. de)., Dictionnaire des sciences sociales, Presses Universitaires de France, 2006, 485-487.
« Les 'gender studies' américaines : une très brève introduction », in Margaret Maruani (sous la dir. de), Femmes, sexes ou genre. L'état des savoirs, Paris, La Découverte, 2005, 356-63.
"'Boys will be Men, and Girls will be Boys:' Division sexuelle et travail dans la métallurgie (France et Angleterre, 1914-1939)," Annales, H.S.S., mai-juin 1999, 561-586.
"Les Marraines élues de la paix sociale?  Les Surintendantes d'usine et la rationalisation du travail en France, 1917-1935," Le Mouvement Social, n. 164, juillet-septembre, 1993, 53-76.
"Women's Strikes and the Politics of Popular Egalitarianism in France, 1916-1918," in Lenard Berlanstein, ed., Rethinking Labor History: Essays in Discourse and Class Analysis (Chicago, University of Illinois Press, 1993), 114-148.
"If 'Woman' is Just an Empty Category, then Why am I Afraid to Walk Alone at Night? Identity Politics Meets the Postmodern Subject," Comparative Studies in Society and History, April, 1993, 414-437.  See also L. Downs, "Reply to Joan Scott," in the same issue, 444-458.
"Industrial Decline, Rationalization and Equal Pay: The Bedaux Strike at Rover Automobile Company," Social History, January, 1990, 45-73.